My baby always cries and refuses to have a shampoo shower especially washing hair. shall we have to prepare some baby shower planning, baby shower games, and bath toys? actually, a cartoon bathing cap for newborns, toddlers, babies, and kids will solve all problems.

Why baby shower cap? Do newborns need caps?
The baby will feel uncomfortable while soap or shampoo easily gets inside his eyes or ears. that's the reason why he will cry and refuse to get bathing. what is the purpose of a shower cap? shower caps for babies are nothing but hats with wide brims that prevent soap or shampoo from getting inside your baby's eyes.

My son Ryan is already 6 years old, he can take a shower by himself with a shower cap. here has the crown baby shower cap review.
What's the best baby shower cap?
1. The material must be silicone. ryan's first bath visor was made of EVA. let's take a pic and do a comparison.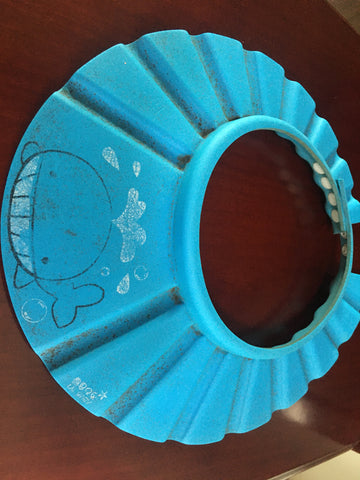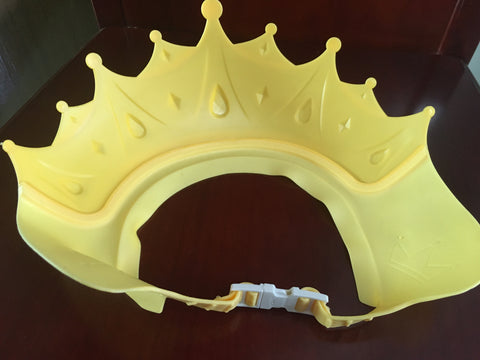 The EVA material hat easily gets mouldy after several times use. but the silicone hat still looks like a new hat.
Also, the silicone material is much softer than EVA and fits the baby's head very well without gaps.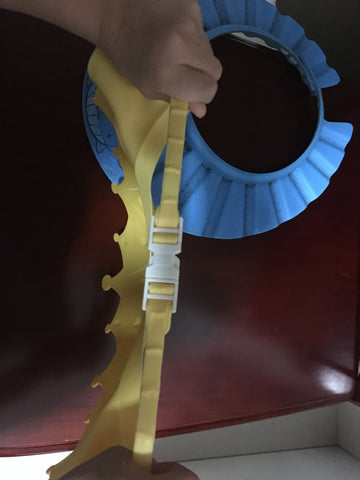 2. An adjustable buckle.
they always use buttons to adjust the size of the shower visor. if a baby's head circumference between two buttons? what shall we do? the adjustable buckle will help you adjust any size that suits your baby's head and never slip off.

3. The water better runs out from the back of the hair washing cap.
Most of the shampoo cap has wide brims, that makes water flow from the front of the hat. but it's not good for long hair washing, especially for girls.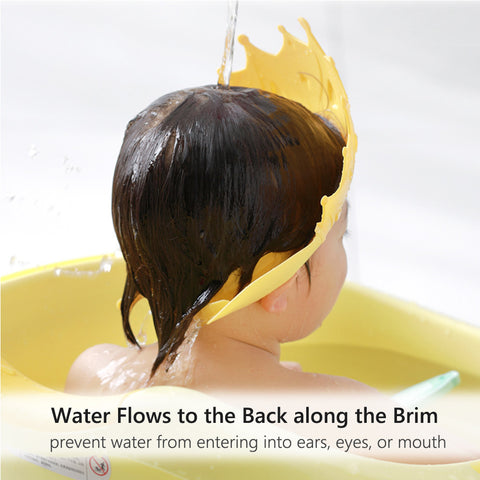 4. Cartoon design.
My son Ryan always said, "I will be a king with a crown". I think your baby will like it also. but if you have a girl who doesn't like crowns. please don't worry, here has a sunflower shower cap for your queen.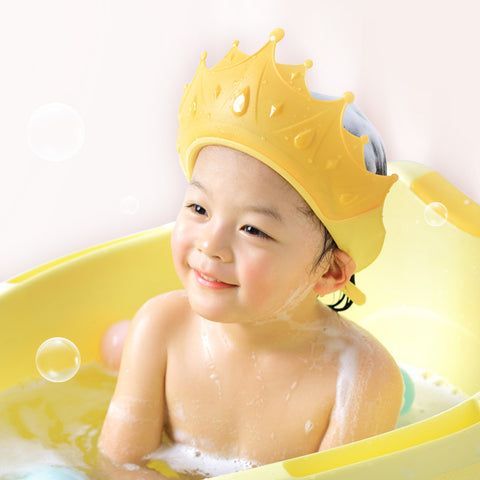 How to use a baby shower cap?
Just adjust the shower cap's size into the right size that suits your baby will be ok. then ask your baby to wear it. pay attention: put the front of the cap higher than the back of the hat. if they are the same height, you will always think the shower cap's size is too small. the hat will easily slip off while washing hair and the baby will feel uncomfortable because too tight.

Maybe you will think I just want to sell my baby shower cap. but that's my real experience with my son while taking a shower. I just want to share with all families with babies.
Shall we prepare bathtub toys?
The answer is no. I don't suggest playing with toys while having bathing. you can sing a song or tell a story for your baby. it's much better than a bath toy.

I am Ryan's daddy. if you agree with my ideas, you can have a try with our baby shower cap. if you have a nice try, welcome to share with other families. if you have some good ideas, welcome to write to me. we will keep improving with your advice.